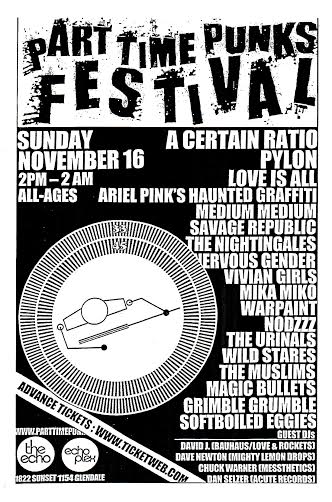 Part Time Punks
Sunday, November 16, 2008
(Part 1)

I traveled all the way down from SF to catch A Certain Ratio, which to date has not come back to the West Coast, so glad that I did. What's remarkable isn't who I saw but who I didn't see. Namely: The Nightingales, Nervous Gender, Vivian Girls, Mika Miko, Warpaint, The Urinals, Magic Bullets (who I did catch a few times the following year) and Ben White (otherwise known as Benny Shambles) Softboiled Eggies, nor do I remember any of the DJs...and only
saw the encore track (M-Train) from Pylon
. Luckily I caught them in SF a few days later, their penultimate performance before guitarist Randy Bewley sadly and suddenly passed away.
The good news though is that I missed Ariel Pink, that I do not regret!

First up, Grimble Grumble. I came in midway through their set and only captured several songs (forst two unidentified), the last being a cover of "Here Come The Warm Jets" by Brian Eno, and then outro music of the Chills' amazing 'Pink Frost'.

And then, Wild Stares. When researching this, I learned that they just released an album last October ("Automatic Writing Machine"), based on an album they started working on this very show. It's actually excellent.

I still need to identify a number of tracks, only have three of them named:
Setlist, missing titles provided from Justin in the band...

00 intro [0:33]
03 Babies Falling [3:56]

04 The Long March [6:08]

07 Piece of the Picture [5:34]

08 Motor Drive [5:20]

Both sets were recorded with an Edirol R09-HR with built-in mics, which did a pretty good job for what they are.