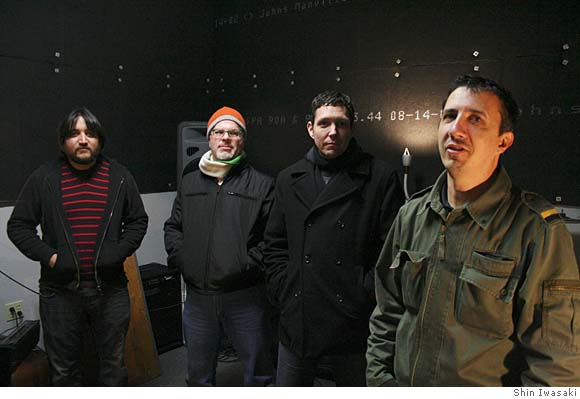 Photo from this article...

At this point, I've done this enough to not preface this with "My seventh recording..." which this was.
Both of these shows were taped with my friend Tomzero's Sonic Studios DSM-6 mics, using a PA-6 battery box, plugged into a Sony MZ-RH10.
This was the first of nine times seeing Kyle / Ray / Sasha / Raj in Carta, and right off I can tell they had something special to their instrumental post-rock. Here's a listing of shows that they have played over the years.

Carta
2008-01-04
Cafe Du Nord
San Francisco CA
Setlist
pre-gig PA music ("Coup" by 23 Skidoo), soundchecking
The Glass Bottom Boat
Burning Bridges
Who Killed The Clerk, Descension
Back To Nature (edited)
I may have dealing with something to do with nature at this point, hence the edit.

...outro PA music (Section 25 - "Beneath The Blade")
The Drift
2008-01-04
Cafe Du Nord
San Francisco CA
pre-gig PA music
soundchecking, intro
Nozomi
Invisible Cities (edited)
unknown
Hearts Are Flowers
...outro PA music (Chameleons)
Don't remember much about these guys but they were also in the post-rock vein, and they had released Nozomi / Invisible Cities on a single a couple years prior.

I also recorded headliners Savage Republic, but per agreement with the band, I do not have permission to share this recording publicly. I can disclose what songs were played, though, since it's
already out there
, as well as share these two previously unpublished photos from the show.
pre-gig PA music, soundchecking
Procession
Spice Fields
[interlude] There are some people here that saw us in Athens
O Andonis
[interlude] Ethan Port talks
Marshal Tito
[interlude] Is it my imagination
Siam
[interlude] Alan wants to take his short off
Jamahiriya
Mobilization
Ivory Coast
Torpedo
Tablula Rasa
1938
pre-encore PA, 'Kill The Fascists' (audience member), SR come back on
Viva Le Rock n' Roll [Alternative TV]
Real Men
NO DOWNLOAD for Savage Republic

I will instead feature this absolutely stunning recording of them 25 years prior, at the I-Beam.